Hawke Round Robin: Gen 1.4


As Jane pointed out to me I have numbered the Round Robin wrong (guess who missed 1.2?). There is nothing wrong with your computer screen, please do not attempt to adjust your picture.

Also sorry about le lack of updates, Livejournal went boom and Art school suddenly became a demanding girlfriend.



Red hands, possibly the greatest way of boosting fun since I don't know when. Oddly enough I had never heard of the game until I played the sims.




Behold! Damian's room, And All it's Splendour! (god I'd hate to see it without)





TWINS!

Clark is possibly the only toddler sim I have ever had a distaste for. He refuses to play with toys of any kind therefore won't build skills but bitches about how bored he is. He won't sleep because he's so bored and therefore won't eat because he's sleepy. I was seriously so close to killing him off it was not funny.




Diana perfectly sums up my feelings about Clark




It took two sim days for Damian to max out his creativity points, and one sim day to max his logic skill. I call heir
Child prodigy on that!




Child, i will destroy everything you love.
GO THE FUCK TO SLEEP!


Larry is displeased with Clark




Midway through his body points too. Damian you are truly the perfect child :3




Trust me, that birthday cake is older than it looks.




All you Foxboro Hottubs Fans know what time it is ;)

(there were jingles)




D:




I freaking hope the burglar takes you Clark!




Dammit. :(
Straight after he got caught, Clark the psychotic little shit kept rolling wants to see the burglar as a ghost.




POP!




Damian upholding tradtion.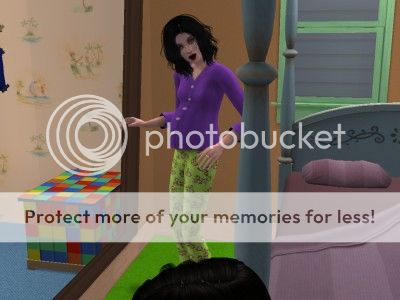 FINALLY! Better than christmas, swear to god!




I swore I had a picture of him. meh. The first thing he did was clean the toilet. REPENT FOR YOUR SINS!




WOOOO!




Nice parenting Diana. meet Oswald. Named after Oswald Chesterfield Cobblepot. A.K.A The Penguin.
Thats the heir choices done and dusted.





They all kept rolling wants to go fishing. hence le pond. N






Father/son bonding is serious shirtless bussiness




Oswald, today you're blowing out candles, tomorrow you'll be setting Gotham alight...with ah...candles.




He has a Mohawk, your argument about my failure to produce decent birthday pictures is invalid.




However none of you are as excited and Diana.




Damian <3




Post-make-over.
He looks like David from Lilo and Stitch.




and on that note.

Heir votes will commence soon I am sure. remeber vote Damian for your chosen RR heir.









Comments {4}